Full Service Weekly Pool Services
At Kaiser Pools, our goal for the past 35 years has been to provide our customers with the highest quality pool services for both commercial and residential pools. Our track record speaks for itself, but we know we must earn your business today and every day. Our Pool Service Department is open Monday – Friday 8:00 AM to 5:00 PM. Our staff members are professional, courteous and efficient. Please contact us today to schedule your pool services. Emergency service is available.
WHAT WE DO
We put your pool on our all inclusive pool maintenance program.
We test your pool water and provide and apply pool minerals and chemicals to keep your pool water in optimum condition.
We empty your pool skimmer and pump baskets.
We backwash your filter on a regular basis.
We clean your automatic pool cleaner (bag/filter).
We clean your pool wall screen.
We verify your automatic pool cleaner operation.
We vacuum your pool.
We brush your pool (walls / tile / steps).
We net your pool.
We check your pool equipment.
We keep your pool water healthy and treat algae issues at no additional charge.
We help you monitor your pool operations by reporting any observations by reporting any observations of swimming pool issues.
WHAT YOU DO
Maintain proper water level.
Keep the pool equipment operating and approve repairs when needed.
Report any observations of swimming pool issues.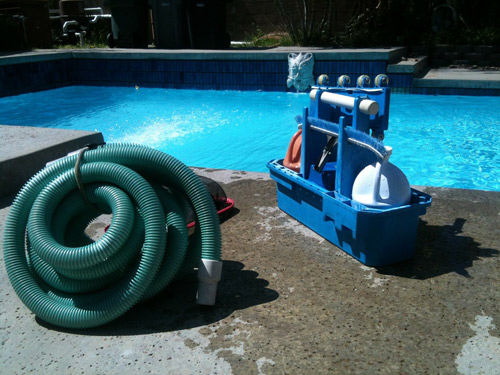 Custom Swimming Pool Construction – Residential and Commercial
Vinyl Liner Pool Construction
Shotcrete / Gunite Pool Construction
Fiberglass Pool Installation
Pool Remodeling
All Shapes & Designs